About MAVIN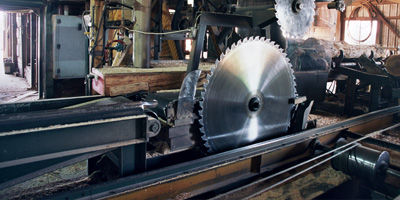 American Made Furniture, from forest to fabrication. Located in the rolling farmland of Ohio's Amish country, MAVIN is a third generation of lumber specialists who hand-select the best of the cherry, oak, maple, walnut or hickory tree to bring you our quality products. Our family selects and harvests the timber, shapes it in our own sawmill, and then carefully checks it in our own dry kilns. We know the building of solid wood furniture from its roots. Winesburg Lumber had its origins as a two-man logging operation more than three generations ago. As the younger generation became a part of this growing organization they felt that diversification was a path for future success and growth, and so we began building doors and contract grade chairs. This has evolved into one of the most complete custom dining lines in the country. We are proud of the furniture we produce.
Our Facility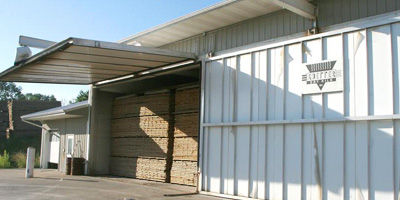 Our plant is a successful mix of traditional and modern approaches. Traditional because of the insistence on the highest standard of craftsmanship. Modern, as in the use of computer aided design and fabrication, state-of-the-art machinery, and lean manufacturing. Complete quality control is one of the main variables that sets us apart from our competition. Shown below is one of our four dry kilns that assures that each piece of lumber that goes into making our chairs, tables and cases is moisture checked to perfect specifications to assure longevity and avoid splitting and cracking, a problem rampant in imported furniture that is delivered in crates from far off lands.
No Waste From Us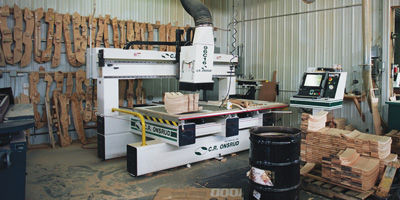 Such efficiency benefits our customers. Because our business includes the entire supply chain, we are able to schedule and organize production and delivery with accuracy. We are able to work closely with retailers to help them meet their customers' expectations.
Part of our philosophy is to make use of every part of the tree that we have harvested. So, after selecting the finest grades and colors of wood to be made into our furniture, we use the remainder in constructing excellent industrial pallets. Wood chips are made into landscaping mulch; wood shavings are shipped to paper companies.
With efficiency and frugality in our heritage, the principles of lean manufacturing are second nature to us. Our in-depth knowledge of every part of the tree means that only the finest, most carefully selected woods go into every chair, table and cabinet.
Mavin Furniture Styles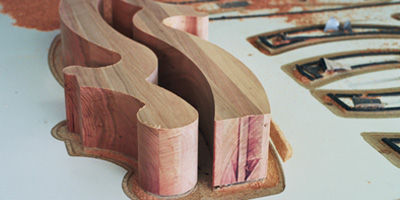 Our designs result from our conversations with retailers, so we know what styles are in favor, what their customers are asking for. MAVIN is a range of fine traditional, casually elegant, and transitional styles. All chairs are contract-grade construction with mortise and tenon joints, and include designs suitable for any décor.
We are known throughout our home region (one of the best cabinetry and wood working areas in the world) for quality, a homegrown level of excellence that is now available throughout the U.S.
Fine furniture is an art. For those who appreciate the very best. We invite you to create your own masterpiece and hope your family enjoys the furniture as much as we enjoyed making it for you. 
The Mavin Difference
MADE IN AMERICA
Unlike nearly all other wood furniture sold in America today, our furniture is 100% Made in the U.S.
VERTICAL PROCESS
Quality checked from the seedling to the final product. The efficiency of our truly vertical process contributes to an excellent final product. We don't have to source from others because we are the source. 
CAREFUL PRODUCTION
Sanding is one of our specialties. Our extreme care in processing comes from the fact that we know each piece of wood and its characteristics since the time it was a tree!
FINE FINISHING
Fine finishing is our last step, but it makes the difference. We apply 22 different stains and colors to multiple wood species. We then carefully apply our highest quality conversion varnish in our dust-proof facility and let it cure our way, avoiding oven-baked finishes and providing a finish with five times more protection than our competitors. Fine silk is delicate but don't let our silky finish fool you. Our unique finish provides a dense wear surface that protects the wood surface against many enemies (nail polish remover, oil based paint, turpentine, alcohol, mustard, wine, solvents and many more food items and oils). In our own test we apply lipstick to the surface, let it dry and onto that pour a generous amount of nail polish remover, let it sit a few minutes, wipe it dry and the finish stays perfect! This test would destroy 95% of the furniture finishes produced in the world today. Our finishing is designed to safeguard the beauty and integrity of heirloom quality furniture.
A WAY OF LIFE
Our heritage, values and skills combined with our use of technology and lean manufacturing principles produce beautifully and efficiently made pieces of furniture.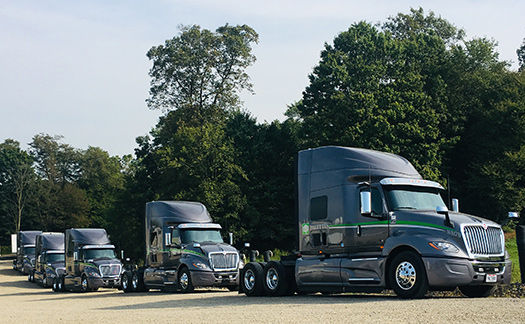 CONVENIENT DELIVERY
With our own fleet of trucks, we are able to deliver our custom furniture directly to our authorized MAVIN retailers around the country. To find a retailer near you, please see our Store Locator page.